Forms & Resources
Frequently Used Links:
- This e-mail address is being protected from spambots. You need JavaScript enabled to view it
- OptionC
Hot Lunch Program Information (Orderlunches website has now changed to Boonli - The links below will take you to the new website):
- Hot Lunch Informational Flyer
Milk Order Information for the 2017-18 School Year
Fun Foods and Jamba Juice Ordering Information
Fun Foods and Jamba Juice ordering information coming soon!
SVdP Outdoor Learning Lab
- Please click here to learn more about this exciting project!
2017-2018 Registration Forms
We have posted our new Registration Forms for your use. Please follow the steps below to complete your packet:
Step 1: Please download and read these instructions on how to use our forms before starting: Form Instructions and Registration Dates
Step 2: Download the Registration Packet:
If you are a current or returning family, please download this form packet: 2017-2018 Current Family Registration Packet
or
If you are a new family to our school, please download this form packet: 2017-2018 New Family Registration Packet
Please contact our school's office if you should need any help with our forms packet.
Thank you!
Extended Care Information
-Extended Care Welcome Letter 2017-2018 School Year
-Extended Care Registration Forms for the 2017 - 2018 School Year
FACTS Information and Website
-Click here to enroll or manage your tuition payments
Current Forms and Resources:
- Authorization for Administration of Medication Form
- Pilgrim Virgin Mary Statue Information
Sign up for the Pilgrim Virgin Statue by clicking here!
- Student Insurance Information and Form
- St. Vincent de Paul Parent-Student Handbook 2017-18
- St. Vincent de Paul Parent-Student Handbook Signature Page
- Technology Acceptable Use Policy and Pledge with Acknowledgement Form
- Transportation Guidelines & Inclement Weather Plan
- Walker Permission Form 2017-18
2017-2018 School Year Supply Lists (Available Now)
- 1 through 5th Grade Supply List
- 7th and 8th Grade Supply List
Archived Forms
- VIP Monthly Home Project Form
Volunteer Requirements
Before you volunteer in our school, you must complete the following checklist:
- Volunteer Worker Hold Harmless Form
- Authorize a Criminal Background Check and Fair Credit Reporting Act Disclousure and Authorization Form
- Review the Archdiocese Code of Conduct (please sign the last page)
- Volunteer Application and Information Form
- Attend a Live Archdiocesan Safe Environment Training Class
or
- Re-certify online your Safe Environment Training Class
Please return your forms and proof of completed Safe Environment Training to our school's office.
School Uniforms
For school uniform information or to shop click on button and insert school code: ce6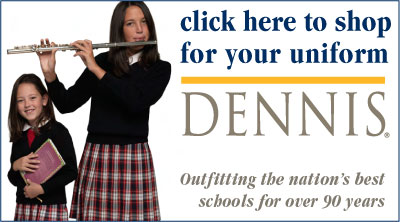 SVdP Used Uniform Sale - How it Works?
SVdP Used Uniform Sale - Save the Date!