News
As so many of you are trying to find each other, we have an Alumni Group on Facebook now! If you can't find the person you're looking for, check us out there as well!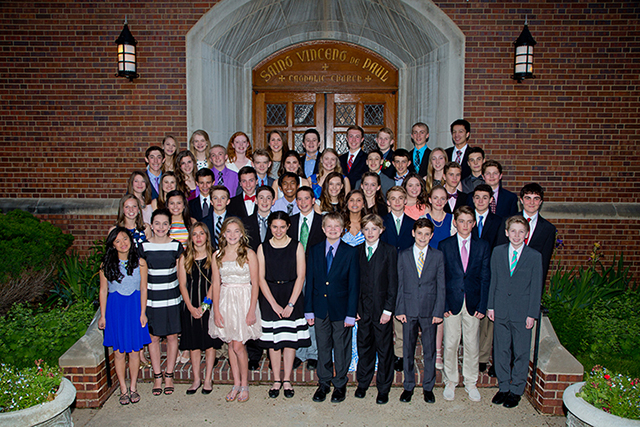 Congratulations Class of 2015!
Congratulations to the class of 2015 as they begin their high school careers! The following students received scholarships/awards to attend Catholic high school next year!
Bishop Machebeuf High School:

Michelle D.

Lowell D.

Emily D.

John Paul L.

Kelly S.

Regis Jesuit High School:

Matthew C.

Ryan G.

Drew R.

Jake T.
Overall, the Class of 2015 saw 24 students move on to Regis Jesuit High School, 7 students to Bishop Machebeuf High School, 5 students to J.K. Mullen High School, 4 students to Littleton High School, 2 students to Cherry Creek High School, 2 students to Denver School of the Arts, 2 students to Valor Christian High School, 1 student to Heritage High School, 1 student to Thomas Jefferson High School, 1 student to be Home Schooled, and 1 student moved Out of State attending public school.

We wish them all the greatest of success in the future. Please know that you remain in our prayers!!
Congratulations Class of 2011!
SVdP Class of 2011 has graduated from their respective high schools and recently came back to SVdP to reconnect and wish each other well! These graduates are planning to attend some wonderful colleges and universities right here in Colorado and throughout the country, including: University of Iowa, University of Nebraska, University of Colorado-Boulder, Gonzaga University, Colorado College, University of Colorado, University of Wyoming, Walla Walla in Washington, Colorado State University, Benedictine College, Louisiana State University, West Point Military Academy, University of Oklahoma, Northern Arizona University, Santa Clara University, US Merchant Marine Academy, Sacred Heart University, Grinnell College, The Citadel in Charleston, South Dakota School of Mines and Technology, Vanderbilt University, Rockhurst University, and Colorado School of Mines! Good luck to you all...and check in with us from time to time!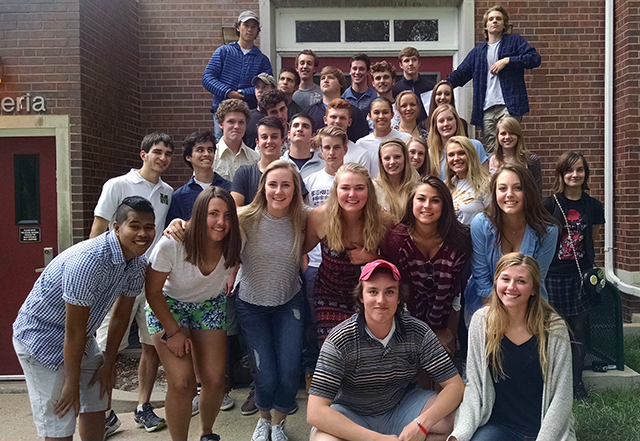 Recently we've heard from...

Class of 1942
Robert Fiori in Colorado: "Dorothy Whelan and I are still above the sod. I'm interested who else in the class of '42 is in the same condition."

Class of 1961
Jean Henry of Colorado: "Susan Higgins? Patty Callahan? Cecilia Jacobs? Any of you out there?"

Class of 1962
Cathy Sloan DuBois in Nevada: "I'm looking for my classmates!"

Class of 1969
Ruth Polen in California: "Can't believe it is 40 years since graduation----looks like the school and church are thriving. Please let me know of any events for alumni in the future."

Class of 1975
Jim Quinlan in Michigan: "OK, class of '75. We are about ready for a 35 year reunion. Marla, Rochelle, time for you to start the planning!!!"

Class of 1979
Alison Pfeifer Brown in Arizona: "I'm hoping to see more of the Class of '79!"

Michelle Thomason in Iowa: "I attended St. Vincent de Paul and then continued on to Machbeuf H.S."

Class of 1980
Sally Meehan in Colorado: "Glad to be on the list of Alumni!"

Susan Peters Meyers in Kansas: "I attended from first through eighth grade - there was no Kindergarten when I was there. Loved this school! Would love to see it again some day..."

Celeste Urbish Orr in Ohio: "I attended from 1st through 6th grade. Good experience!"

Class of 1983
Audra Gillespie in Colorado: "I attended for 4th, 5th and 6th grade. It would be great to connect with anyone from my class. If I lived closer I would definitely send my kids there!"

Tim Compton in Colorado: "Anyone up for a reunion?"

Class of 1984
Michael Lancaster in Wisconsin: "Happily married with 3 wonderful children all attending Catholic Schools. I am Superintendent of Catholic Schools for the Diocese of Madison."

Class of 1985
Becky Korsick Brown in Colorado: "I am happy to be back at SVdP in a teaching capacity. My children attend the school along with the children of many other alumni."

Class of 1986
Dale Chavez in Colorado: "Love this place. My family has a long history with the Parish. If we ever move a bit closer I would love my girls to attend as well."

Class of 1997
Shannon Garvey in New Jersey: "My family moved after I finished 4th grade. We all have fond memories of SVdP and the whole Garvey Family sends a collective 'Thank you and God Bless!'"

Callan Hackstaff in California: "I like the new website!"

If you would like to reconnect with anyone from your class, e-mail us at This e-mail address is being protected from spambots. You need JavaScript enabled to view it and we will do our best to put you in touch with your classmates.

Please encourage others to Update their Profile on this website!