Administration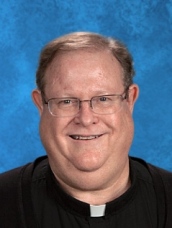 Father Andrew Kemberling - Pastor
Father Andrew Kemberling was born in Tucson, Arizona and is one of 10 children. He attended the University of Arizona where he earned a Bachelor's degree in Fine Arts and a Master's degree in Art Education. He taught as a part-time Catholic School teacher for six years. In 1981 Father Andrew entered Holy Cross Abbey in Canon City and professed his solemn vows in the Benedictine Order in 1985. Father Andrew taught at the high school and the summer camp. He received a Master of Divinity degree at St. John's University in Collegeville, Minnesota and was ordained on June 11, 1988.
Father Andrew served as parochial vicar at Sacred Heart of Mary Parish in Boulder, a parochial vicar in St. Joseph Parish in Grand Junction and an Administrator of St. Francis Xavier in Pueblo. He was a first-time pastor at Sacred Heart of Mary and developed stewardship as a way of life. His art background guided the beautiful campus renovation of the church and parish. Immediately prior to going to Saint Thomas More (STM), Father Andrew served as parochial vicar at Our Lady of Fatima Parish in Lakewood.
In June of 2000, the STM community welcomed Father Andrew Kemberling as an Administrator. His switch from the Benedictine Order to be a priest of the Archdiocese of Denver happened in 2002, and he was named Pastor. Father Andrew went to STM with a reputation as an advocate for stewardship, a promoter of vocations, and advocate for beautiful church renovations. He restructured the parish's organization chart which drives a top down and bottom-up system. In his homilies he explained that stewardship is more than just the giving of money; stewardship is a way of life.
In addition to remodeling the campus and church of STM, Father Andrew brought St. Thomas More to the forefront in promoting stewardship as an international public speaker. He wrote a book along with Mila Glodava entitled "Making Stewardship a Way of Life", published by Our Sunday Visitor. He has assisted with mentoring other pastors and many parishes in the Archdiocese of Denver and beyond. Father Andrew has made four mission trips to the Philippines working with bishops and priests. He is a member of the board of the International Stewardship Council, and received the prestigious Archbishop Thomas J. Murphy Award in 2007.
He was named Pastor of St. Vincent de Paul Parish, Denver, Colorado June 18, 2014.
Saint Vincent de Paul Catholic School operates under the direction of the Pastor of the Parish and the Dominican Sisters of St. Cecilia, Nashville, TN.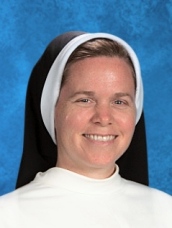 Sister Dominic, O.P. - Principal
The youngest of six children, Sr. Dominic grew up in Maryland, where most of her family lives. Because there were no Catholic schools in the area, she attended public schools. From Christendom College, a Catholic school, Sr. Dominic earned a bachelor's degree in history.
Although Sr. Dominic did not want anything to do with a call to religious life, God showed her that she would not be happy anywhere except in the life to which He had called her. So, after four years of enjoying the sunshine of California and discerning for a year or so, she entered the Dominican Sisters of Saint Cecilia in Nashville.
While assigned to teach middle school in Atlanta, Sr. Dominic completed her master's degree in Educational Leadership at Christian Brothers University. She was later assigned to serve as principal at a school in the Diocese of Richmond, Virginia, for six years. This past summer Sr. Dominic received her master's degree in Catholic studies at the University of Saint Thomas, Minnesota.
Sr. Dominic enjoys the outdoors—gardening, walking, the beach, and promises to learn to enjoy hiking! She enjoys the indoors as well: reading, praying, writing letters home, good conversations, and cooking.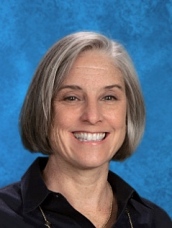 Mrs. Mary Cohen - Assistant Principal
Born into a large, Irish, Catholic family, Mary is the sixth of seven children. She had spent most of my life in Denver, Colorado. Mary and her husband Jeremy will celebrate their 29th year of marriage this December. They have one adult daughter who graduated from St. Vincent de Paul School in 2003.
Mary's teaching career began at St. Vincent de Paul in 1993, under Principal Sr. Pat Dunphy. In 2003 she accepted the position of principal of St. Mary's Catholic School in Littleton, Colorado. In 2011 Mary joined the Archdiocese of Denver Office of Catholic Schools as the assistant superintendent. "It was an honor to serve the archbishop in that role for five years," she said, "before returning to St. Vincent de Paul." "The opportunity to return to this school as the assistant principal is tremendous blessing and a source of great personal joy." Indeed, Mary exemplifies a great love for Catholic education, in general, and for St. Vincent de Paul School, in particular.